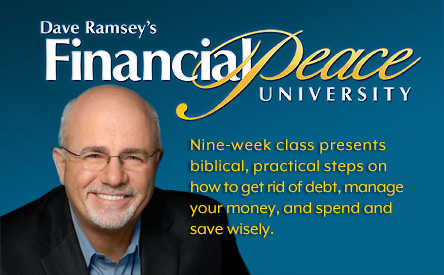 Financial Peace University
January 16th - March 13th, 2018
$100
Do you wonder every month where your money went? With practice and the right tools, you can control your money instead of it controlling you. Learn Biblical practices for money management in Dave Ramsey's class, Financial Peace University. This 9 week course will teach you how to pay off your debt, save for the future and create a budget that works for you. Millions of people have changed their future through this class and you can too.
Sign up today for this 9 week class held Tuesday evenings, 7-9pm beginning January 16th, 2018. Registration fee of $100 per family includes the Financial Peace Membership Kit, all class materials and access to additional online resources.
Note: For married couples, it is highly recommended that both people attend this course!
Encounter 2018 - Winter Retreat
February 23rd - February 25th, 2018
$200
Join us for Encounter 2018 as we head up to Jaffrey, New Hampshire on February 23-25. This weekend is one you don't want to miss! It proves year in and year out to be one of the best weekends! What a great time to connect with one another and to reconnect or reignite our hearts with God.
Space is limited, so sign up today!! We hope to see you there!